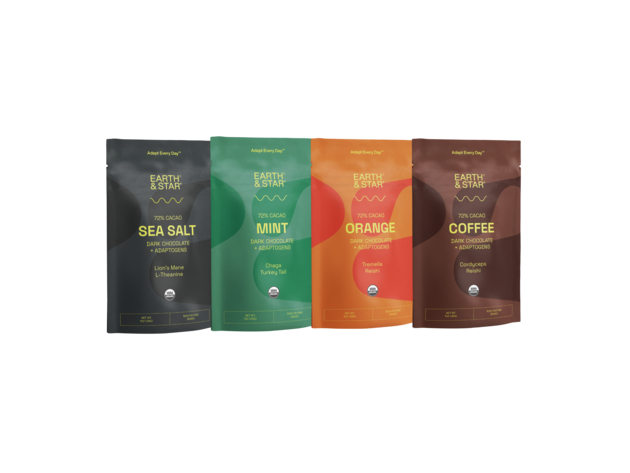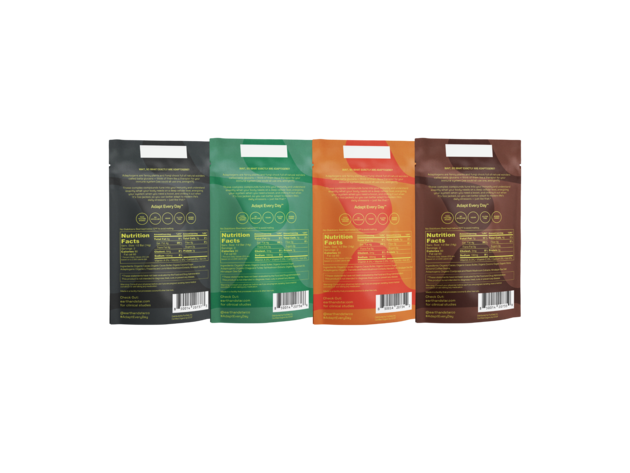 12 Bar Variety Pack Dark Chocolate + Functional Mushroom Extracts by Earth & Star
by Earth & Star
Description
Fulfilled by our friends at Earth & Star
A little bit of everything to keep it interesting.
Receive 3 bars of each flavor.
Specs
Ingredients:

Cacao
Cacao is the raw form of chocolate, loaded with heart healthy antioxidants that prevent disease and lower cholesterol. A compound known as theobromine gives mild caffeination without the jitters. Boom.

Cacao Butter
Cacao Butter is the edible fat that's extracted from the cacao beans. This heart healthy fat not only supports brain health but boosts your mood and can help lower cholesterol.

Coconut Palm Sugar
Manners should be refined, sugar should not! Made from the sap of the flowering coconut palm, we'll take this minimally processed, highly nutrient dense sweetener over the white stuff any day. Coconut palm sugar is low on the Glycemic Index and even boasts the gut-friendly prebiotic known as inulin. Sweet.

L-Theanine
Derived from green tea leaves, theanine is an amino acid that reduces anxiety while increasing alertness and concentration.

Lions Mane
Lion's Mane mushrooms are known to improve memory, boost concentration and support cognitive function. Lift the morning fog.

Chaga
Chaga acts as the ultimate adaptogen for your immune system and is one of the highest antioxidant foods in the world.

Turkey Tail
Turkey Tail is one of the most widely researched functional mushrooms, most renowned for its deep immune support and is a prebiotic for the microbiome, aka your gut.

Prebiotics are compounds in food and supplements that induce the growth or activity of beneficial microorganisms such as bacteria and fungi in the GI tract - your microbiome.

Peppermint Oil
Peppermint oil is a carminative and therefore helps remove excess gas as well as treat a variety of conditions, including irritable bowel syndrome (IBS), nausea, and other digestive issues, as well as the common cold and headaches.

Salt
Not to be confused with regular table salt, Himalayan Salt is a true power player, regulating water content throughout the body, and supporting respiratory and bone health.

Tremella
The ultimate beauty superfood, Tremella mushrooms contains high amounts of polysaccharides, the antioxidants that help keep skin hydrated, diminishing the appearance of wrinkles and increasing elasticity. Tremella may also improve the levels of hyaluronic acid, which improves overall texture and skin integrity.

Reishi
Considered the Queen of Mushrooms, this shady lady has been used for thousands of years to support and balance hormones, allowing your body to relax and recover during the night, as nature intended.

Mandarin Oil
This potent little fruit supports the often overworked liver by clearing away bile; it also delivers over a quarter of the DV for vitamin C, which is important for skin health, wound healing, and proper immune function.

Cordyceps
This wonderfully weird looking mushroom acts to sustain energy and enhance athletic performance by increasing oxygen uptake and aerobic capacity. Oh, and it's known to boost libido and support adrenals.


* These statements have not been evaluated by the Food and Drug Administration. This product is not intended to diagnose, treat, cure, or prevent any disease.
Shipping
Ships to US
Expected Delivery: Feb 14 - Feb 18
Terms
Returns accepted within 30 days of shipment for orders within the Contiguous US.